W Shapes - American wide flange beams
Welcome to our W shapes free CAD downloads page! Here you'll find all American Wide Flange Beam shapes described by the AISC Steel shapes database (V14.1). Sort the table below according to any property and select a CAD file to download using the reference links in the left-most column.
You can also purchase all our CAD data in one easy download, containing the shapes as individual files or AutoCAD Design Center files - just click here to visit our Shop.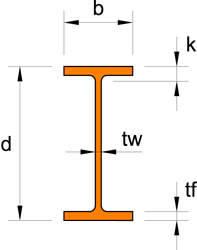 Imperial Reference
Metric Reference
Nominal Weight
Depth of Section
Width of Section
Web Thickness
Flange Thickness
K Dimension
(Click on link to download)
lb/ft (kg/m)
d
in (mm)
b
in (mm)
tw
in (mm)
tf
in (mm)
k
in (mm)
W 44x335
W 1100x499
335 (499)
44.0 (1120)
15.9 (404)
1.03 (26.2)
1.77 (45.0)
2.625 (66.7)
W 44x290
W 1100x433
290 (433)
43.6 (1110)
15.8 (401)
0.865 (22.0)
1.58 (40.1)
2.438 (61.9)
W 44x262
W 1100x390
262 (390)
43.3 (1100)
15.8 (401)
0.785 (19.9)
1.42 (36.1)
2.250 (57.2)
W 44x230
W 1100x343
230 (343)
42.9 (1090)
15.8 (401)
0.710 (18.0)
1.22 (31.0)
2.063 (52.4)
W 40x593
W 1000x883
593 (883)
43.0 (1090)
16.7 (424)
1.79 (45.5)
3.23 (82.0)
4.500 (114)
W 40x503
W 1000x748
503 (748)
42.1 (1070)
16.4 (417)
1.54 (39.1)
2.76 (70.1)
4.000 (102)
W 40x431
W 1000x642
431 (642)
41.3 (1050)
16.2 (411)
1.34 (34.0)
2.36 (59.9)
3.625 (92.1)
W 40x397
W 1000x591
397 (591)
41.0 (1040)
16.1 (409)
1.22 (31.0)
2.20 (55.9)
3.500 (88.9)
W 40x372
W 1000x554
372 (554)
40.6 (1030)
16.1 (409)
1.16 (29.5)
2.05 (52.1)
3.313 (84.1)
W 40x362
W 1000x539
362 (539)
40.6 (1030)
16.0 (406)
1.12 (28.4)
2.01 (51.1)
3.250 (82.6)
W 40x324
W 1000x483
324 (483)
40.2 (1020)
15.9 (404)
1.00 (25.4)
1.81 (46.0)
3.063 (77.8)
W 40x297
W 1000x443
297 (443)
39.8 (1010)
15.8 (401)
0.930 (23.6)
1.65 (41.9)
2.938 (74.6)
W 40x277
W 1000x412
277 (412)
39.7 (1010)
15.8 (401)
0.830 (21.1)
1.58 (40.1)
2.875 (73.0)
W 40x249
W 1000x371
249 (371)
39.4 (1000)
15.8 (401)
0.750 (19.1)
1.42 (36.1)
2.688 (68.3)
W 40x215
W 1000x321
215 (321)
39.0 (991)
15.8 (401)
0.650 (16.5)
1.22 (31.0)
2.500 (63.5)
W 40x199
W 1000x296
199 (296)
38.7 (983)
15.8 (401)
0.650 (16.5)
1.07 (27.2)
2.313 (58.7)
W 40x392
W 1000x584
392 (584)
41.6 (1060)
12.4 (315)
1.42 (36.1)
2.52 (64.0)
3.813 (96.8)
W 40x331
W 1000x494
331 (494)
40.8 (1040)
12.2 (310)
1.22 (31.0)
2.13 (54.1)
3.375 (85.7)
W 40x327
W 1000x486
327 (486)
40.8 (1040)
12.1 (307)
1.18 (30.0)
2.13 (54.1)
3.375 (85.7)
W 40x294
W 1000x438
294 (438)
40.4 (1030)
12.0 (305)
1.06 (26.9)
1.93 (49.0)
3.188 (81.0)
W 40x278
W 1000x415
278 (415)
40.2 (1020)
12.0 (305)
1.03 (26.2)
1.81 (46.0)
3.063 (77.8)
W 40x264
W 1000x393
264 (393)
40.0 (1020)
11.9 (302)
0.960 (24.4)
1.73 (43.9)
3.000 (76.2)
W 40x235
W 1000x350
235 (350)
39.7 (1010)
11.9 (302)
0.830 (21.1)
1.58 (40.1)
2.875 (73.0)
W 40x211
W 1000x314
211 (314)
39.4 (1000)
11.8 (300)
0.750 (19.1)
1.42 (36.1)
2.688 (68.3)
W 40x183
W 1000x272
183 (272)
39.0 (991)
11.8 (300)
0.650 (16.5)
1.20 (30.5)
2.500 (63.5)
W 40x167
W 1000x249
167 (249)
38.6 (980)
11.8 (300)
0.650 (16.5)
1.03 (26.2)
2.313 (58.7)
W 40x149
W 1000x222
149 (222)
38.2 (970)
11.8 (300)
0.630 (16.0)
0.83 (21.1)
2.125 (54.0)
W 36x652
W 920x970
652 (970)
41.1 (1040)
17.6 (447)
1.97 (50.0)
3.54 (89.9)
4.813 (122)
W 36x529
W 920x787
529 (787)
39.8 (1010)
17.2 (437)
1.61 (40.9)
2.91 (73.9)
4.188 (106)
W 36x487
W 920x725
487 (725)
39.3 (998)
17.1 (434)
1.50 (38.1)
2.68 (68.1)
4.000 (102)
W 36x441
W 920x656
441 (656)
38.9 (988)
17.0 (432)
1.36 (34.5)
2.44 (62.0)
3.750 (95.3)
W 36x395
W 920x588
395 (588)
38.4 (975)
16.8 (427)
1.22 (31.0)
2.20 (55.9)
3.438 (87.3)
W 36x361
W 920x537
361 (537)
38.0 (965)
16.7 (424)
1.12 (28.4)
2.01 (51.1)
3.313 (84.1)
W 36x330
W 920x491
330 (491)
37.7 (958)
16.6 (422)
1.02 (25.9)
1.85 (47.0)
3.125 (79.4)
W 36x302
W 920x449
302 (449)
37.3 (947)
16.7 (424)
0.945 (24.0)
1.68 (42.7)
3.000 (76.2)
W 36x282
W 920x420
282 (420)
37.1 (942)
16.6 (422)
0.885 (22.5)
1.57 (39.9)
2.875 (73.0)
W 36x262
W 920x390
262 (390)
36.9 (937)
16.6 (422)
0.840 (21.3)
1.44 (36.6)
2.750 (69.9)
W 36x247
W 920x368
247 (368)
36.7 (932)
16.5 (419)
0.800 (20.3)
1.35 (34.3)
2.625 (66.7)
W 36x231
W 920x344
231 (344)
36.5 (927)
16.5 (419)
0.760 (19.3)
1.26 (32.0)
2.563 (65.1)
W 36x256
W 920x381
256 (381)
37.4 (951)
12.2 (310)
0.960 (24.4)
1.73 (43.9)
2.625 (66.7)
W 36x232
W 920x345
232 (345)
37.1 (943)
12.1 (307)
0.870 (22.1)
1.57 (39.9)
2.438 (61.9)
W 36x210
W 920x313
210 (313)
36.7 (932)
12.2 (310)
0.830 (21.1)
1.36 (34.5)
2.313 (58.7)
W 36x194
W 920x289
194 (289)
36.5 (927)
12.1 (307)
0.765 (19.4)
1.26 (32.0)
2.188 (55.6)
W 36x182
W 920x271
182 (271)
36.3 (922)
12.1 (307)
0.725 (18.4)
1.18 (30.0)
2.125 (54.0)
W 36x170
W 920x253
170 (253)
36.2 (919)
12.0 (305)
0.680 (17.3)
1.10 (27.9)
2.000 (50.8)
W 36x160
W 920x238
160 (238)
36.0 (914)
12.0 (305)
0.650 (16.5)
1.02 (25.9)
1.938 (49.2)
W 36x150
W 920x223
150 (223)
35.9 (912)
12.0 (305)
0.625 (15.9)
0.940 (23.9)
1.875 (47.6)
W 36x135
W 920x201
135 (201)
35.6 (904)
12.0 (305)
0.600 (15.2)
0.790 (20.1)
1.688 (42.9)
W 33x387
W 840x576
387 (576)
36.0 (914)
16.2 (411)
1.26 (32.0)
2.28 (57.9)
3.188 (81.0)
W 33x354
W 840x527
354 (527)
35.6 (904)
16.1 (409)
1.16 (29.5)
2.09 (53.1)
2.938 (74.6)
W 33x318
W 840x473
318 (473)
35.2 (894)
16.0 (406)
1.04 (26.4)
1.89 (48.0)
2.750 (69.9)
W 33x291
W 840x433
291 (433)
34.8 (884)
15.9 (404)
0.960 (24.4)
1.73 (43.9)
2.625 (66.7)
W 33x263
W 840x392
263 (392)
34.5 (876)
15.8 (401)
0.870 (22.1)
1.57 (39.9)
2.438 (61.9)
W 33x241
W 840x359
241 (359)
34.2 (869)
15.9 (404)
0.830 (21.1)
1.40 (35.6)
2.250 (57.2)
W 33x221
W 840x329
221 (329)
33.9 (861)
15.8 (401)
0.775 (19.7)
1.28 (32.5)
2.125 (54.0)
W 33x201
W 840x299
201 (299)
33.7 (856)
15.7 (399)
0.715 (18.2)
1.15 (29.2)
2.000 (50.8)
W 33x169
W 840x251
169 (251)
33.8 (859)
11.5 (292)
0.670 (17.0)
1.22 (31.0)
2.125 (54.0)
W 33x152
W 840x226
152 (226)
33.5 (851)
11.6 (295)
0.635 (16.1)
1.06 (26.9)
1.938 (49.2)
W 33x141
W 840x210
141 (210)
33.3 (846)
11.5 (292)
0.605 (15.4)
0.960 (24.4)
1.813 (46.0)
W 33x130
W 840x193
130 (193)
33.1 (841)
11.5 (292)
0.580 (14.7)
0.855 (21.7)
1.750 (44.5)
W 33x118
W 840x176
118 (176)
32.9 (836)
11.5 (292)
0.550 (14.0)
0.740 (18.8)
1.625 (41.3)
W 30x391
W 760x582
391 (582)
33.2 (843)
15.6 (396)
1.36 (34.5)
2.44 (62.0)
3.375 (85.7)
W 30x357
W 760x531
357 (531)
32.8 (833)
15.5 (394)
1.24 (31.5)
2.24 (56.9)
3.125 (79.4)
W 30x326
W 760x484
326 (484)
32.4 (823)
15.4 (391)
1.14 (29.0)
2.05 (52.1)
2.938 (74.6)
W 30x292
W 760x434
292 (434)
32.0 (813)
15.3 (389)
1.02 (25.9)
1.85 (47.0)
2.750 (69.9)
W 30x261
W 760x389
261 (389)
31.6 (803)
15.2 (386)
0.930 (23.6)
1.65 (41.9)
2.563 (65.1)
W 30x235
W 760x350
235 (350)
31.3 (795)
15.1 (384)
0.830 (21.1)
1.50 (38.1)
2.375 (60.3)
W 30x211
W 760x314
211 (314)
30.9 (785)
15.1 (384)
0.775 (19.7)
1.32 (33.5)
2.250 (57.2)
W 30x191
W 760x284
191 (284)
30.7 (780)
15.0 (381)
0.710 (18.0)
1.19 (30.2)
2.063 (52.4)
W 30x173
W 760x257
173 (257)
30.4 (772)
15.0 (381)
0.655 (16.6)
1.07 (27.2)
2.000 (50.8)
W 30x148
W 760x220
148 (220)
30.7 (780)
10.5 (267)
0.650 (16.5)
1.18 (30.0)
2.063 (52.4)
W 30x132
W 760x196
132 (196)
30.3 (770)
10.5 (267)
0.615 (15.6)
1.00 (25.4)
1.875 (47.6)
W 30x124
W 760x185
124 (185)
30.2 (767)
10.5 (267)
0.585 (14.9)
0.930 (23.6)
1.813 (46.0)
W 30x116
W 760x173
116 (173)
30.0 (762)
10.5 (267)
0.565 (14.4)
0.850 (21.6)
1.750 (44.5)
W 30x108
W 760x161
108 (161)
29.8 (757)
10.5 (267)
0.545 (13.8)
0.760 (19.3)
1.688 (42.9)
W 30x99
W 760x147
99.0 (147)
29.7 (754)
10.5 (267)
0.520 (13.2)
0.670 (17.0)
1.563 (39.7)
W 30x90
W 760x134
90.0 (134)
29.5 (749)
10.4 (264)
0.470 (11.9)
0.610 (15.5)
1.500 (38.1)
W 27x539
W 690x802
539 (802)
32.5 (826)
15.3 (389)
1.97 (50.0)
3.54 (89.9)
4.438 (113)
W 27x368
W 690x548
368 (548)
30.4 (772)
14.7 (373)
1.38 (35.1)
2.48 (63.0)
3.375 (85.7)
W 27x336
W 690x500
336 (500)
30.0 (762)
14.6 (371)
1.26 (32.0)
2.28 (57.9)
3.188 (81.0)
W 27x307
W 690x457
307 (457)
29.6 (752)
14.4 (366)
1.16 (29.5)
2.09 (53.1)
3.000 (76.2)
W 27x281
W 690x419
281 (419)
29.3 (744)
14.4 (366)
1.06 (26.9)
1.93 (49.0)
2.813 (71.4)
W 27x258
W 690x384
258 (384)
29.0 (737)
14.3 (363)
0.980 (24.9)
1.77 (45.0)
2.688 (68.3)
W 27x235
W 690x350
235 (350)
28.7 (729)
14.2 (361)
0.910 (23.1)
1.61 (40.9)
2.500 (63.5)
W 27x217
W 690x323
217 (323)
28.4 (721)
14.1 (358)
0.830 (21.1)
1.50 (38.1)
2.375 (60.3)
W 27x194
W 690x289
194 (289)
28.1 (714)
14.0 (356)
0.750 (19.1)
1.34 (34.0)
2.250 (57.2)
W 27x178
W 690x265
178 (265)
27.8 (706)
14.1 (358)
0.725 (18.4)
1.19 (30.2)
2.063 (52.4)
W 27x161
W 690x240
161 (240)
27.6 (701)
14.0 (356)
0.660 (16.8)
1.08 (27.4)
2.000 (50.8)
W 27x146
W 690x217
146 (217)
27.4 (696)
14.0 (356)
0.605 (15.4)
0.975 (24.8)
1.875 (47.6)
W 27x129
W 690x192
129 (192)
27.6 (701)
10.0 (254)
0.610 (15.5)
1.10 (27.9)
2.000 (50.8)
W 27x114
W 690x170
114 (170)
27.3 (693)
10.1 (257)
0.570 (14.5)
0.930 (23.6)
1.813 (46.0)
W 27x102
W 690x152
102 (152)
27.1 (688)
10.0 (254)
0.515 (13.1)
0.830 (21.1)
1.750 (44.5)
W 27x94
W 690x140
94.0 (140)
26.9 (683)
10.0 (254)
0.490 (12.4)
0.745 (18.9)
1.625 (41.3)
W 27x84
W 690x125
84.0 (125)
26.7 (678)
10.0 (254)
0.460 (11.7)
0.640 (16.3)
1.563 (39.7)
W 24x370
W 610x551
370 (551)
28.0 (711)
13.7 (348)
1.52 (38.6)
2.72 (69.1)
3.625 (92.1)
W 24x335
W 610x498
335 (498)
27.5 (699)
13.5 (343)
1.38 (35.1)
2.48 (63.0)
3.375 (85.7)
W 24x306
W 610x455
306 (455)
27.1 (688)
13.4 (340)
1.26 (32.0)
2.28 (57.9)
3.188 (81.0)
W 24x279
W 610x415
279 (415)
26.7 (678)
13.3 (338)
1.16 (29.5)
2.09 (53.1)
3.000 (76.2)
W 24x250
W 610x372
250 (372)
26.3 (668)
13.2 (335)
1.04 (26.4)
1.89 (48.0)
2.813 (71.4)
W 24x229
W 610x341
229 (341)
26.0 (660)
13.1 (333)
0.960 (24.4)
1.73 (43.9)
2.625 (66.7)
W 24x207
W 610x307
207 (307)
25.7 (653)
13.0 (330)
0.870 (22.1)
1.57 (39.9)
2.500 (63.5)
W 24x192
W 610x285
192 (285)
25.5 (648)
13.0 (330)
0.810 (20.6)
1.46 (37.1)
2.375 (60.3)
W 24x176
W 610x262
176 (262)
25.2 (640)
12.9 (328)
0.750 (19.1)
1.34 (34.0)
2.250 (57.2)
W 24x162
W 610x241
162 (241)
25.0 (635)
13.0 (330)
0.705 (17.9)
1.22 (31.0)
2.125 (54.0)
W 24x146
W 610x217
146 (217)
24.7 (627)
12.9 (328)
0.650 (16.5)
1.09 (27.7)
2.000 (50.8)
W 24x131
W 610x195
131 (195)
24.5 (622)
12.9 (328)
0.605 (15.4)
0.960 (24.4)
1.875 (47.6)
W 24x117
W 610x174
117 (174)
24.3 (617)
12.8 (325)
0.550 (14.0)
0.850 (21.6)
1.750 (44.5)
W 24x104
W 610x155
104 (155)
24.1 (612)
12.8 (325)
0.500 (12.7)
0.750 (19.1)
1.625 (41.3)
W 24x103
W 610x153
103 (153)
24.5 (622)
9.00 (229)
0.550 (14.0)
0.980 (24.9)
1.875 (47.6)
W 24x94
W 610x140
94.0 (140)
24.3 (617)
9.07 (230)
0.515 (13.1)
0.875 (22.2)
1.750 (44.5)
W 24x84
W 610x125
84.0 (125)
24.1 (612)
9.02 (229)
0.470 (11.9)
0.770 (19.6)
1.688 (42.9)
W 24x76
W 610x113
76.0 (113)
23.9 (607)
8.99 (228)
0.440 (11.2)
0.680 (17.3)
1.563 (39.7)
W 24x68
W 610x101
68.0 (101)
23.7 (602)
8.97 (228)
0.415 (10.5)
0.585 (14.9)
1.500 (38.1)
W 24x62
W 610x92
62.0 (92.0)
23.7 (602)
7.04 (179)
0.430 (10.9)
0.590 (15.0)
1.500 (38.1)
W 24x55
W 610x82
55.0 (82.0)
23.6 (599)
7.01 (178)
0.395 (10.0)
0.505 (12.8)
1.438 (36.5)
W 21x201
W 530x300
201 (300)
23.0 (584)
12.6 (320)
0.910 (23.1)
1.63 (41.4)
2.500 (63.5)
W 21x182
W 530x272
182 (272)
22.7 (577)
12.5 (318)
0.830 (21.1)
1.48 (37.6)
2.375 (60.3)
W 21x166
W 530x248
166 (248)
22.5 (572)
12.4 (315)
0.750 (19.1)
1.36 (34.5)
2.250 (57.2)
W 21x147
W 530x219
147 (219)
22.1 (561)
12.5 (318)
0.720 (18.3)
1.15 (29.2)
2.000 (50.8)
W 21x132
W 530x196
132 (196)
21.8 (554)
12.4 (315)
0.650 (16.5)
1.04 (26.4)
1.938 (49.2)
W 21x122
W 530x182
122 (182)
21.7 (551)
12.4 (315)
0.600 (15.2)
0.960 (24.4)
1.813 (46.0)
W 21x111
W 530x165
111 (165)
21.5 (546)
12.3 (312)
0.550 (14.0)
0.875 (22.2)
1.750 (44.5)
W 21x101
W 530x150
101 (150)
21.4 (544)
12.3 (312)
0.500 (12.7)
0.800 (20.3)
1.688 (42.9)
W 21x93
W 530x138
93.0 (138)
21.6 (549)
8.42 (214)
0.580 (14.7)
0.930 (23.6)
1.625 (41.3)
W 21x83
W 530x123
83.0 (123)
21.4 (544)
8.36 (212)
0.515 (13.1)
0.835 (21.2)
1.500 (38.1)
W 21x73
W 530x109
73.0 (109)
21.2 (538)
8.30 (211)
0.455 (11.6)
0.740 (18.8)
1.438 (36.5)
W 21x68
W 530x101
68.0 (101)
21.1 (536)
8.27 (210)
0.430 (10.9)
0.685 (17.4)
1.375 (34.9)
W 21x62
W 530x92
62.0 (92.0)
21.0 (533)
8.24 (209)
0.400 (10.2)
0.615 (15.6)
1.313 (33.3)
W 21x55
W 530x82
55.0 (82.0)
20.8 (528)
8.22 (209)
0.375 (9.53)
0.522 (13.3)
1.188 (30.2)
W 21x48
W 530x72
48.0 (72.0)
20.6 (523)
8.14 (207)
0.350 (8.89)
0.430 (10.9)
1.125 (28.6)
W 21x57
W 530x85
57.0 (85.0)
21.1 (536)
6.56 (167)
0.405 (10.3)
0.650 (16.5)
1.313 (33.3)
W 21x50
W 530x74
50.0 (74.0)
20.8 (528)
6.53 (166)
0.380 (9.65)
0.535 (13.6)
1.250 (31.8)
W 21x44
W 530x66
44.0 (66.0)
20.7 (526)
6.50 (165)
0.350 (8.89)
0.450 (11.4)
1.125 (28.6)
W 18x311
W 460x464
311 (464)
22.3 (566)
12.0 (305)
1.52 (38.6)
2.74 (69.6)
3.438 (87.3)
W 18x283
W 460x421
283 (421)
21.9 (556)
11.9 (302)
1.40 (35.6)
2.50 (63.5)
3.188 (81.0)
W 18x258
W 460x384
258 (384)
21.5 (546)
11.8 (300)
1.28 (32.5)
2.30 (58.4)
3.000 (76.2)
W 18x234
W 460x349
234 (349)
21.1 (536)
11.7 (297)
1.16 (29.5)
2.11 (53.6)
2.750 (69.9)
W 18x211
W 460x315
211 (315)
20.7 (526)
11.6 (295)
1.06 (26.9)
1.91 (48.5)
2.563 (65.1)
W 18x192
W 460x286
192 (286)
20.4 (518)
11.5 (292)
0.960 (24.4)
1.75 (44.5)
2.438 (61.9)
W 18x175
W 460x260
175 (260)
20.0 (508)
11.4 (290)
0.890 (22.6)
1.59 (40.4)
2.438 (61.9)
W 18x158
W 460x235
158 (235)
19.7 (500)
11.3 (287)
0.810 (20.6)
1.44 (36.6)
2.375 (60.3)
W 18x143
W 460x213
143 (213)
19.5 (495)
11.2 (284)
0.730 (18.5)
1.32 (33.5)
2.188 (55.6)
W 18x130
W 460x193
130 (193)
19.3 (490)
11.2 (284)
0.670 (17.0)
1.20 (30.5)
2.063 (52.4)
W 18x119
W 460x177
119 (177)
19.0 (483)
11.3 (287)
0.655 (16.6)
1.06 (26.9)
1.938 (49.2)
W 18x106
W 460x158
106 (158)
18.7 (475)
11.2 (284)
0.590 (15.0)
0.940 (23.9)
1.813 (46.0)
W 18x97
W 460x144
97.0 (144)
18.6 (472)
11.1 (282)
0.535 (13.6)
0.870 (22.1)
1.750 (44.5)
W 18x86
W 460x128
86.0 (128)
18.4 (467)
11.1 (282)
0.480 (12.2)
0.770 (19.6)
1.625 (41.3)
W 18x76
W 460x113
76.0 (113)
18.2 (462)
11.0 (279)
0.425 (10.8)
0.680 (17.3)
1.563 (39.7)
W 18x71
W 460x106
71.0 (106)
18.5 (470)
7.64 (194)
0.495 (12.6)
0.810 (20.6)
1.500 (38.1)
W 18x65
W 460x97
65.0 (97.0)
18.4 (467)
7.59 (193)
0.450 (11.4)
0.750 (19.1)
1.438 (36.5)
W 18x60
W 460x89
60.0 (89.0)
18.2 (462)
7.56 (192)
0.415 (10.5)
0.695 (17.7)
1.375 (34.9)
W 18x55
W 460x82
55.0 (82.0)
18.1 (460)
7.53 (191)
0.390 (9.91)
0.630 (16.0)
1.313 (33.3)
W 18x50
W 460x74
50.0 (74.0)
18.0 (457)
7.50 (191)
0.355 (9.02)
0.570 (14.5)
1.250 (31.8)
W 18x46
W 460x68
46.0 (68.0)
18.1 (460)
6.06 (154)
0.360 (9.14)
0.605 (15.4)
1.250 (31.8)
W 18x40
W 460x60
40.0 (60.0)
17.9 (455)
6.02 (153)
0.315 (8.00)
0.525 (13.3)
1.188 (30.2)
W 18x35
W 460x52
35.0 (52.0)
17.7 (450)
6.00 (152)
0.300 (7.62)
0.425 (10.8)
1.125 (28.6)
W 16x100
W 410x149
100 (149)
17.0 (432)
10.4 (264)
0.585 (14.9)
0.985 (25.0)
1.875 (47.6)
W 16x89
W 410x132
89.0 (132)
16.8 (427)
10.4 (264)
0.525 (13.3)
0.875 (22.2)
1.750 (44.5)
W 16x77
W 410x114
77.0 (114)
16.5 (419)
10.3 (262)
0.455 (11.6)
0.760 (19.3)
1.625 (41.3)
W 16x67
W 410x100
67.0 (100)
16.3 (414)
10.2 (259)
0.395 (10.0)
0.665 (16.9)
1.563 (39.7)
W 16x57
W 410x85
57.0 (85.0)
16.4 (417)
7.12 (181)
0.430 (10.9)
0.715 (18.2)
1.375 (34.9)
W 16x50
W 410x75
50.0 (75.0)
16.3 (414)
7.07 (180)
0.380 (9.65)
0.630 (16.0)
1.313 (33.3)
W 16x45
W 410x67
45.0 (67.0)
16.1 (409)
7.04 (179)
0.345 (8.76)
0.565 (14.4)
1.250 (31.8)
W 16x40
W 410x60
40.0 (60.0)
16.0 (406)
7.00 (178)
0.305 (7.75)
0.505 (12.8)
1.188 (30.2)
W 16x36
W 410x53
36.0 (53.0)
15.9 (404)
6.99 (178)
0.295 (7.49)
0.430 (10.9)
1.125 (28.6)
W 16x31
W 410x46.1
31.0 (46.1)
15.9 (404)
5.53 (140)
0.275 (6.99)
0.440 (11.2)
1.125 (28.6)
W 16x26
W 410x38.8
26.0 (38.8)
15.7 (399)
5.50 (140)
0.250 (6.35)
0.345 (8.76)
1.063 (27.0)
W 14x730
W 360x1086
730 (1090)
22.4 (569)
17.9 (455)
3.07 (78.0)
4.91 (125)
6.188 (157)
W 14x665
W 360x990
665 (990)
21.6 (549)
17.7 (450)
2.83 (71.9)
4.52 (115)
5.813 (148)
W 14x605
W 360x900
605 (900)
20.9 (531)
17.4 (442)
2.60 (66.0)
4.16 (106)
5.438 (138)
W 14x550
W 360x818
550 (818)
20.2 (513)
17.2 (437)
2.38 (60.5)
3.82 (97.0)
5.125 (130)
W 14x500
W 360x744
500 (744)
19.6 (498)
17.0 (432)
2.19 (55.6)
3.50 (88.9)
4.813 (122)
W 14x455
W 360x677
455 (677)
19.0 (483)
16.8 (427)
2.02 (51.3)
3.21 (81.5)
4.500 (114)
W 14x426
W 360x634
426 (634)
18.7 (475)
16.7 (424)
1.88 (47.8)
3.04 (77.2)
4.313 (110)
W 14x398
W 360x592
398 (592)
18.3 (465)
16.6 (422)
1.77 (45.0)
2.85 (72.4)
4.125 (105)
W 14x370
W 360x551
370 (551)
17.9 (455)
16.5 (419)
1.66 (42.2)
2.66 (67.6)
3.938 (100)
W 14x342
W 360x509
342 (509)
17.5 (445)
16.4 (417)
1.54 (39.1)
2.47 (62.7)
3.750 (95.3)
W 14x311
W 360x463
311 (463)
17.1 (434)
16.2 (411)
1.41 (35.8)
2.26 (57.4)
3.563 (90.5)
W 14x283
W 360x421
283 (421)
16.7 (424)
16.1 (409)
1.29 (32.8)
2.07 (52.6)
3.375 (85.7)
W 14x257
W 360x382
257 (382)
16.4 (417)
16.0 (406)
1.18 (30.0)
1.89 (48.0)
3.188 (81.0)
W 14x233
W 360x347
233 (347)
16.0 (406)
15.9 (404)
1.07 (27.2)
1.72 (43.7)
3.000 (76.2)
W 14x211
W 360x314
211 (314)
15.7 (399)
15.8 (401)
0.980 (24.9)
1.56 (39.6)
2.875 (73.0)
W 14x193
W 360x287
193 (287)
15.5 (394)
15.7 (399)
0.890 (22.6)
1.44 (36.6)
2.750 (69.9)
W 14x176
W 360x262
176 (262)
15.2 (386)
15.7 (399)
0.830 (21.1)
1.31 (33.3)
2.625 (66.7)
W 14x159
W 360x237
159 (237)
15.0 (381)
15.6 (396)
0.745 (18.9)
1.19 (30.2)
2.500 (63.5)
W 14x145
W 360x216
145 (216)
14.8 (376)
15.5 (394)
0.680 (17.3)
1.09 (27.7)
2.375 (60.3)
W 14x132
W 360x196
132 (196)
14.7 (373)
14.7 (373)
0.645 (16.4)
1.03 (26.2)
2.313 (58.7)
W 14x120
W 360x179
120 (179)
14.5 (368)
14.7 (373)
0.590 (15.0)
0.940 (23.9)
2.250 (57.2)
W 14x109
W 360x162
109 (162)
14.3 (363)
14.6 (371)
0.525 (13.3)
0.860 (21.8)
2.188 (55.6)
W 14x99
W 360x147
99.0 (147)
14.2 (361)
14.6 (371)
0.485 (12.3)
0.780 (19.8)
2.063 (52.4)
W 14x90
W 360x134
90.0 (134)
14.0 (356)
14.5 (368)
0.440 (11.2)
0.710 (18.0)
2.000 (50.8)
W 14x82
W 360x122
82.0 (122)
14.3 (363)
10.1 (257)
0.510 (13.0)
0.855 (21.7)
1.688 (42.9)
W 14x74
W 360x110
74.0 (110)
14.2 (361)
10.1 (257)
0.450 (11.4)
0.785 (19.9)
1.625 (41.3)
W 14x68
W 360x101
68.0 (101)
14.0 (356)
10.0 (254)
0.415 (10.5)
0.720 (18.3)
1.563 (39.7)
W 14x61
W 360x91
61.0 (91.0)
13.9 (353)
10.0 (254)
0.375 (9.53)
0.645 (16.4)
1.500 (38.1)
W 14x53
W 360x79
53.0 (79.0)
13.9 (353)
8.06 (205)
0.370 (9.40)
0.660 (16.8)
1.500 (38.1)
W 14x48
W 360x72
48.0 (72.0)
13.8 (351)
8.03 (204)
0.340 (8.64)
0.595 (15.1)
1.438 (36.5)
W 14x43
W 360x64
43.0 (64.0)
13.7 (348)
8.00 (203)
0.305 (7.75)
0.530 (13.5)
1.375 (34.9)
W 14x38
W 360x57.8
38.0 (57.8)
14.1 (358)
6.77 (172)
0.310 (7.87)
0.515 (13.1)
1.250 (31.8)
W 14x34
W 360x51
34.0 (51.0)
14.0 (356)
6.75 (171)
0.285 (7.24)
0.455 (11.6)
1.188 (30.2)
W 14x30
W 360x44
30.0 (44.0)
13.8 (351)
6.73 (171)
0.270 (6.86)
0.385 (9.78)
1.125 (28.6)
W 14x26
W 360x39
26.0 (39.0)
13.9 (353)
5.03 (128)
0.255 (6.48)
0.420 (10.7)
1.125 (28.6)
W 14x22
W 360x32.9
22.0 (32.9)
13.7 (348)
5.00 (127)
0.230 (5.84)
0.335 (8.51)
1.063 (27.0)
W 12x336
W 310x500
336 (500)
16.8 (427)
13.4 (340)
1.78 (45.2)
2.96 (75.2)
3.875 (98.4)
W 12x305
W 310x454
305 (454)
16.3 (414)
13.2 (335)
1.63 (41.4)
2.71 (68.8)
3.625 (92.1)
W 12x279
W 310x415
279 (415)
15.9 (404)
13.1 (333)
1.53 (38.9)
2.47 (62.7)
3.375 (85.7)
W 12x252
W 310x375
252 (375)
15.4 (391)
13.0 (330)
1.40 (35.6)
2.25 (57.2)
3.125 (79.4)
W 12x230
W 310x342
230 (342)
15.1 (384)
12.9 (328)
1.29 (32.8)
2.07 (52.6)
2.938 (74.6)
W 12x210
W 310x313
210 (313)
14.7 (373)
12.8 (325)
1.18 (30.0)
1.90 (48.3)
2.813 (71.4)
W 12x190
W 310x283
190 (283)
14.4 (366)
12.7 (323)
1.06 (26.9)
1.74 (44.2)
2.625 (66.7)
W 12x170
W 310x253
170 (253)
14.0 (356)
12.6 (320)
0.960 (24.4)
1.56 (39.6)
2.438 (61.9)
W 12x152
W 310x226
152 (226)
13.7 (348)
12.5 (318)
0.870 (22.1)
1.40 (35.6)
2.313 (58.7)
W 12x136
W 310x202
136 (202)
13.4 (340)
12.4 (315)
0.790 (20.1)
1.25 (31.8)
2.125 (54.0)
W 12x120
W 310x179
120 (179)
13.1 (333)
12.3 (312)
0.710 (18.0)
1.11 (28.2)
2.000 (50.8)
W 12x106
W 310x158
106 (158)
12.9 (328)
12.2 (310)
0.610 (15.5)
0.990 (25.1)
1.875 (47.6)
W 12x96
W 310x143
96.0 (143)
12.7 (323)
12.2 (310)
0.550 (14.0)
0.900 (22.9)
1.813 (46.0)
W 12x87
W 310x129
87.0 (129)
12.5 (318)
12.1 (307)
0.515 (13.1)
0.810 (20.6)
1.688 (42.9)
W 12x79
W 310x117
79.0 (117)
12.4 (315)
12.1 (307)
0.470 (11.9)
0.735 (18.7)
1.625 (41.3)
W 12x72
W 310x107
72.0 (107)
12.3 (312)
12.0 (305)
0.430 (10.9)
0.670 (17.0)
1.563 (39.7)
W 12x65
W 310x97
65.0 (97.0)
12.1 (307)
12.0 (305)
0.390 (9.91)
0.605 (15.4)
1.500 (38.1)
W 12x58
W 310x86
58.0 (86.0)
12.2 (310)
10.0 (254)
0.360 (9.14)
0.640 (16.3)
1.500 (38.1)
W 12x53
W 310x79
53.0 (79.0)
12.1 (307)
10.0 (254)
0.345 (8.76)
0.575 (14.6)
1.375 (34.9)
W 12x50
W 310x74
50.0 (74.0)
12.2 (310)
8.08 (205)
0.370 (9.40)
0.640 (16.3)
1.500 (38.1)
W 12x45
W 310x67
45.0 (67.0)
12.1 (307)
8.05 (204)
0.335 (8.51)
0.575 (14.6)
1.375 (34.9)
W 12x40
W 310x60
40.0 (60.0)
11.9 (302)
8.01 (203)
0.295 (7.49)
0.515 (13.1)
1.375 (34.9)
W 12x35
W 310x52
35.0 (52.0)
12.5 (318)
6.56 (167)
0.300 (7.62)
0.520 (13.2)
1.188 (30.2)
W 12x30
W 310x44.5
30.0 (44.5)
12.3 (312)
6.52 (166)
0.260 (6.60)
0.440 (11.2)
1.125 (28.6)
W 12x26
W 310x38.7
26.0 (38.7)
12.2 (310)
6.49 (165)
0.230 (5.84)
0.380 (9.65)
1.063 (27.0)
W 12x22
W 310x32.7
22.0 (32.7)
12.3 (312)
4.03 (102)
0.260 (6.60)
0.425 (10.8)
0.938 (23.8)
W 12x19
W 310x28.3
19.0 (28.3)
12.2 (310)
4.01 (102)
0.235 (5.97)
0.350 (8.89)
0.875 (22.2)
W 12x16
W 310x23.8
16.0 (23.8)
12.0 (305)
3.99 (101)
0.220 (5.59)
0.265 (6.73)
0.813 (20.6)
W 12x14
W 310x21
14.0 (21.0)
11.9 (302)
3.97 (101)
0.200 (5.08)
0.225 (5.72)
0.750 (19.1)
W 10x112
W 250x167
112 (167)
11.4 (290)
10.4 (264)
0.755 (19.2)
1.25 (31.8)
1.938 (49.2)
W 10x100
W 250x149
100 (149)
11.1 (282)
10.3 (262)
0.680 (17.3)
1.12 (28.4)
1.813 (46.0)
W 10x88
W 250x131
88.0 (131)
10.8 (274)
10.3 (262)
0.605 (15.4)
0.990 (25.1)
1.688 (42.9)
W 10x77
W 250x115
77.0 (115)
10.6 (269)
10.2 (259)
0.530 (13.5)
0.870 (22.1)
1.563 (39.7)
W 10x68
W 250x101
68.0 (101)
10.4 (264)
10.1 (257)
0.470 (11.9)
0.770 (19.6)
1.438 (36.5)
W 10x60
W 250x89
60.0 (89.0)
10.2 (259)
10.1 (257)
0.420 (10.7)
0.680 (17.3)
1.375 (34.9)
W 10x54
W 250x80
54.0 (80.0)
10.1 (257)
10.0 (254)
0.370 (9.40)
0.615 (15.6)
1.313 (33.3)
W 10x49
W 250x73
49.0 (73.0)
10.0 (254)
10.0 (254)
0.340 (8.64)
0.560 (14.2)
1.250 (31.8)
W 10x45
W 250x67
45.0 (67.0)
10.1 (257)
8.02 (204)
0.350 (8.89)
0.620 (15.7)
1.313 (33.3)
W 10x39
W 250x58
39.0 (58.0)
9.92 (252)
7.99 (203)
0.315 (8.00)
0.530 (13.5)
1.188 (30.2)
W 10x33
W 250x49.1
33.0 (49.1)
9.73 (247)
7.96 (202)
0.290 (7.37)
0.435 (11.0)
1.125 (28.6)
W 10x30
W 250x44.8
30.0 (44.8)
10.5 (267)
5.81 (148)
0.300 (7.62)
0.510 (13.0)
1.125 (28.6)
W 10x26
W 250x38.5
26.0 (38.5)
10.3 (262)
5.77 (147)
0.260 (6.60)
0.440 (11.2)
1.063 (27.0)
W 10x22
W 250x32.7
22.0 (32.7)
10.2 (259)
5.75 (146)
0.240 (6.10)
0.360 (9.14)
0.938 (23.8)
W 10x19
W 250x28.4
19.0 (28.4)
10.2 (259)
4.02 (102)
0.250 (6.35)
0.395 (10.0)
0.938 (23.8)
W 10x17
W 250x25.3
17.0 (25.3)
10.1 (257)
4.01 (102)
0.240 (6.10)
0.330 (8.38)
0.875 (22.2)
W 10x15
W 250x22.3
15.0 (22.3)
9.99 (254)
4.00 (102)
0.230 (5.84)
0.270 (6.86)
0.813 (20.6)
W 10x12
W 250x17.9
12.0 (17.9)
9.87 (251)
3.96 (101)
0.190 (4.83)
0.210 (5.33)
0.750 (19.1)
W 8x67
W 200x100
67.0 (100)
9.00 (229)
8.28 (210)
0.570 (14.5)
0.935 (23.7)
1.625 (41.3)
W 8x58
W 200x86
58.0 (86.0)
8.75 (222)
8.22 (209)
0.510 (13.0)
0.810 (20.6)
1.500 (38.1)
W 8x48
W 200x71
48.0 (71.0)
8.50 (216)
8.11 (206)
0.400 (10.2)
0.685 (17.4)
1.375 (34.9)
W 8x40
W 200x59
40.0 (59.0)
8.25 (210)
8.07 (205)
0.360 (9.14)
0.560 (14.2)
1.250 (31.8)
W 8x35
W 200x52
35.0 (52.0)
8.12 (206)
8.02 (204)
0.310 (7.87)
0.495 (12.6)
1.188 (30.2)
W 8x31
W 200x46.1
31.0 (46.1)
8.00 (203)
8.00 (203)
0.285 (7.24)
0.435 (11.0)
1.125 (28.6)
W 8x28
W 200x41.7
28.0 (41.7)
8.06 (205)
6.54 (166)
0.285 (7.24)
0.465 (11.8)
0.938 (23.8)
W 8x24
W 200x35.9
24.0 (35.9)
7.93 (201)
6.50 (165)
0.245 (6.22)
0.400 (10.2)
0.875 (22.2)
W 8x21
W 200x31.3
21.0 (31.3)
8.28 (210)
5.27 (134)
0.250 (6.35)
0.400 (10.2)
0.875 (22.2)
W 8x18
W 200x26.6
18.0 (26.6)
8.14 (207)
5.25 (133)
0.230 (5.84)
0.330 (8.38)
0.813 (20.6)
W 8x15
W 200x22.5
15.0 (22.5)
8.11 (206)
4.02 (102)
0.245 (6.22)
0.315 (8.00)
0.813 (20.6)
W 8x13
W 200x19.3
13.0 (19.3)
7.99 (203)
4.00 (102)
0.230 (5.84)
0.255 (6.48)
0.750 (19.1)
W 8x10
W 200x15
10.0 (15.0)
7.89 (200)
3.94 (100)
0.170 (4.32)
0.205 (5.21)
0.688 (17.5)
W 6x25
W 150x37.1
25.0 (37.1)
6.38 (162)
6.08 (154)
0.320 (8.13)
0.455 (11.6)
0.938 (23.8)
W 6x20
W 150x29.8
20.0 (29.8)
6.20 (157)
6.02 (153)
0.260 (6.60)
0.365 (9.27)
0.875 (22.2)
W 6x15
W 150x22.5
15.0 (22.5)
5.99 (152)
5.99 (152)
0.230 (5.84)
0.260 (6.60)
0.750 (19.1)
W 6x16
W 150x24
16.0 (24.0)
6.28 (160)
4.03 (102)
0.260 (6.60)
0.405 (10.3)
0.875 (22.2)
W 6x12
W 150x18
12.0 (18.0)
6.03 (153)
4.00 (102)
0.230 (5.84)
0.280 (7.11)
0.750 (19.1)
W 6x9
W 150x13.5
9.00 (13.5)
5.90 (150)
3.94 (100)
0.170 (4.32)
0.215 (5.46)
0.688 (17.5)
W 6x8.5
W 150x13
8.50 (13.0)
5.83 (148)
3.94 (100)
0.170 (4.32)
0.195 (4.95)
0.688 (17.5)
W 5x19
W 130x28.1
19.0 (28.1)
5.15 (131)
5.03 (128)
0.270 (6.86)
0.430 (10.9)
0.813 (20.6)
W 5x16
W 130x23.8
16.0 (23.8)
5.01 (127)
5.00 (127)
0.240 (6.10)
0.360 (9.14)
0.750 (19.1)
W 4x13
W 100x19.3
13.0 (19.3)
4.16 (106)
4.06 (103)
0.280 (7.11)
0.345 (8.76)
0.750 (19.1)