HP Shapes - American wide flange bearing piles
Welcome to our HP shapes free CAD downloads page! Here you'll find all American Wide Flange Bearing Pile shapes described by the AISC Steel shapes database (V14.1). Sort the table below according to any property and select a CAD file to download using the reference links in the left-most column.
You can also purchase all our CAD data in one easy download, containing the shapes as individual files or AutoCAD Design Center files - just click here to visit our Shop.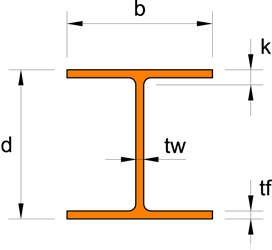 Imperial Reference
Metric Reference
Nominal Weight
Depth of Section
Width of Section
Web Thickness
Flange Thickness
K Dimension
(Click on link to download)
lb/ft (kg/m)
d
in (mm)
b
in (mm)
tw
in (mm)
tf
in (mm)
k
in (mm)
HP 18x204
HP 460x304
204 (304)
18.3 (465)
18.1 (459.7)
1.13 (28.7)
1.13 (28.7)
2.31 (58.7)
HP 18x181
HP 460x269
181 (269)
18.0 (457)
18.0 (457.2)
1.00 (25.4)
1.00 (25.4)
2.18 (55.4)
HP 18x157
HP 460x234
157 (234)
17.7 (451)
17.9 (454.7)
0.870 (22.1)
0.870 (22.1)
2.05 (52.1)
HP 18x135
HP 460x202
135 (202)
17.5 (445)
17.8 (452.1)
0.750 (19.1)
0.750 (19.1)
1.93 (49.0)
HP 16x183
HP 410x272
183 (272)
16.5 (419)
16.3 (414)
1.13 (28.7)
1.13 (28.7)
2.31 (58.7)
HP 16x162
HP 410x242
162 (242)
16.3 (414)
16.1 (408.9)
1.00 (25.4)
1.00 (25.4)
2.18 (55.4)
HP 16x141
HP 410x211
141 (211)
16.0 (406)
16.0 (406.4)
0.875 (22.2)
0.875 (22.2)
2.06 (52.3)
HP 16x121
HP 410x181
121 (181)
15.8 (401)
15.9 (403.9)
0.750 (19.1)
0.750 (19.1)
1.93 (49.0)
HP 16x101
HP 410x151
101 (151)
15.5 (394)
15.8 (401.3)
0.625 (15.9)
0.625 (15.9)
1.81 (46.0)
HP 16x88
HP 410x131
88.0 (131)
15.3 (389)
15.7 (398.8)
0.540 (13.7)
0.540 (13.7)
1.72 (43.7)
HP 14x117
HP 360x174
117 (174)
14.2 (361)
14.9 (378)
0.805 (20.4)
0.805 (20.4)
1.50 (38.1)
HP 14x102
HP 360x152
102 (152)
14.0 (356)
14.8 (376)
0.705 (17.9)
0.705 (17.9)
1.38 (35.1)
HP 14x89
HP 360x132
89.0 (132)
13.8 (351)
14.7 (373)
0.615 (15.6)
0.615 (15.6)
1.31 (33.3)
HP 14x73
HP 360x108
73.0 (108)
13.6 (345)
14.6 (371)
0.505 (12.8)
0.505 (12.8)
1.19 (30.2)
HP 12x84
HP 310x125
84.0 (125)
12.3 (312)
12.3 (312)
0.685 (17.4)
0.685 (17.4)
1.38 (35.1)
HP 12x74
HP 310x110
74.0 (110)
12.1 (307)
12.2 (310)
0.605 (15.4)
0.610 (15.5)
1.31 (33.3)
HP 12x63
HP 310x93
63.0 (93.0)
11.9 (302)
12.1 (307)
0.515 (13.1)
0.515 (13.1)
1.25 (31.8)
HP 12x53
HP 310x79
53.0 (79.0)
11.8 (300)
12.0 (305)
0.435 (11.0)
0.435 (11.0)
1.13 (28.7)
HP 10x57
HP 250x85
57.0 (85.0)
9.99 (254)
10.2 (259)
0.565 (14.4)
0.565 (14.4)
1.25 (31.8)
HP 10x42
HP 250x62
42.0 (62.0)
9.70 (246)
10.1 (257)
0.415 (10.5)
0.420 (10.7)
1.13 (28.7)
HP 8x36
HP 200x53
36.0 (53.0)
8.02 (204)
8.16 (207)
0.445 (11.3)
0.445 (11.3)
1.13 (28.7)